LIVES Food Truck "OOPEN!" with COVID-19
---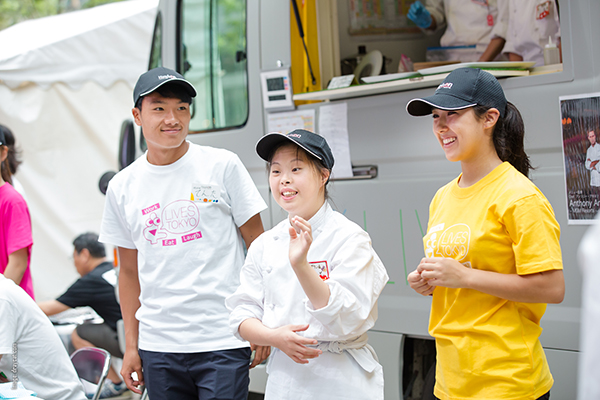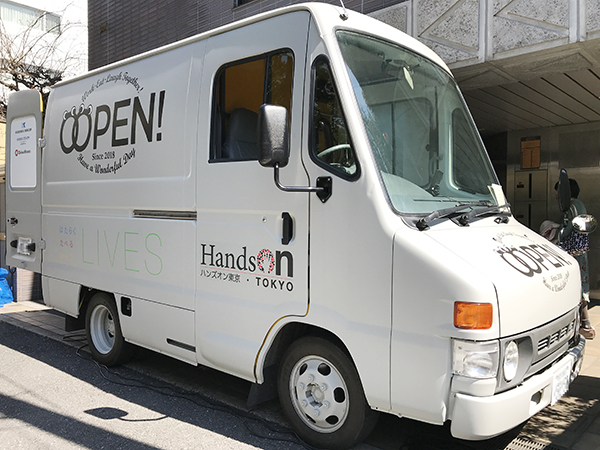 By Aya Higa - Co-chair of LIVES, and Advisor of Hands On Tokyo
Thank you for supporting the LIVES Food truck "OOPEN"! Without your help, we could not come this far!!
As many other people, companies and organizations in the world, we have been having a difficult time trying to survive through this COVID-19 situation. After the Japanese government declared the State of Emergency in mid April, and with the Universities not conducting their classes on campus, our Food Truck "OOPEN" has been in halt for a month and a half. However, the OOPEN team did not give up and has been working hard to find ways for the project to be successful and moving once the state of emergency be raised.
During this time, we made a banner to put on the food truck and a pamphlet to make our mission clear. Hands On Tokyo signed a contract between Ancienne AI and Kakewa K.K., so that we can involve the wider community in Tokyo.
Ancienne AI is a social welfare organization and a French restaurant that hires people who have mental and intellectual disabilities.(http://www.aikobo.or.jp/ancienne.html) They are trained at this restaurant so that they can work full time if they desire to. The Ancienne AI works with Setagaya ward office (a local government office) and this will enable us to reach out to a greater community and involve more people.
Kakewa K.K. is a student-led company, that focuses on helping small farmers in Chiba Prefecture. They sell vegetables, and other specialty products, that have lost their place of sale due to COVID-19. Kakewa K.K. additionally sells indigo-dyed products and other products made by people with disabilities (https://kakewa.work/). Kakewa K.K. also provides the food truck, "OOPEN," with the necessary services to maintain its full service; vegetables for the meals, regular cleaning and maintenance, and a driver.
Hands On Tokyo will continue to provide volunteers, bring in companies that can support the project and raise funds to help sustain the project and to help expand more. This collaboration will enhance this project to include more people which will help change the mindset of people in our society.
From June 1st, after the state of emergency was lifted, the food truck "OOPEN" started to move again!! The people with disabilities and volunteers cook together on Mondays.
With the generous offer from Kawada Constructions Co., Ltd., the LIVES food truck, "OOPEN," is now able to sell lunch boxes in their vicinity every Tuesday. Also, with the cooperation of the Setagaya Ward Office, we are now selling lunch boxes at the ward office on Wednesdays.
Once the universities open and start their on campus classes, we will be in full operation through Monday to Friday!! We are all looking forward to the day when we can "work, eat and laugh" together, without worrying about the virus!!
Thank you again for your generous donation. Your support keeps this project alive and going strong!! It will help change our society.
Thank you so much and stay safe!!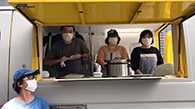 ◇Voices from Haruka and Riho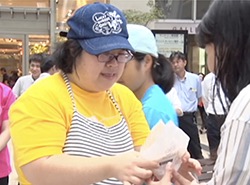 Haruka

Haruka: From the first time I started working for OOPEN, I became good friends with other staff and volunteers,. I also got to know many foreign friends, which was a great experience for me. I am having fun working for the food truck!!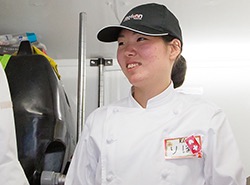 Riho

Riho: As a starting member of the food truck, I have been working for OOPEN from 2018; first as a volunteer and now as a part timer. It is fun to get to know people, and to work with many different people. It is also fun to try cooking various recipes. I want to work for a food related company in the future!!


◇Schedule and Venue
【Schedule and Venue】
Every Tuesday at 11:00 a.m.~ / In front of Kawada Construction Co.,Ltd. (6-3-1 Takinogawa, Kita-ku, Tokyo)
Every Wednesday at 11:00 a.m.~ / In front of Setagaya Ward Office (4-21-27 Setagaya, Setagaya-ku, Tokyo)
【Menu】Special Keema Curry 500yen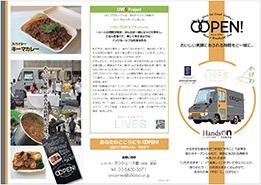 【What is LIVES Food Truck "OOPEN!"】
The concept of the LIVES food truck "OOPEN!" was born as a result of the LIVES TOKYO 2017 event, with a passionate wish to promote employment for people with disabilities. Starting after LIVES TOKYO 2018, "OOPEN!" visited university campuses and events. People with disabilities, together with student volunteers, will be selling delicious lunch meals.

■If you would like to support us financially, please visit the Hands On Tokyo website (https://www.handsontokyo.org/topics/20/). Your financial contribution enables us to provide meaningful service opportunities every week of the year. We would like to thank you, once again, for your continued support.