Youth Summit 2023 - Please join us!
---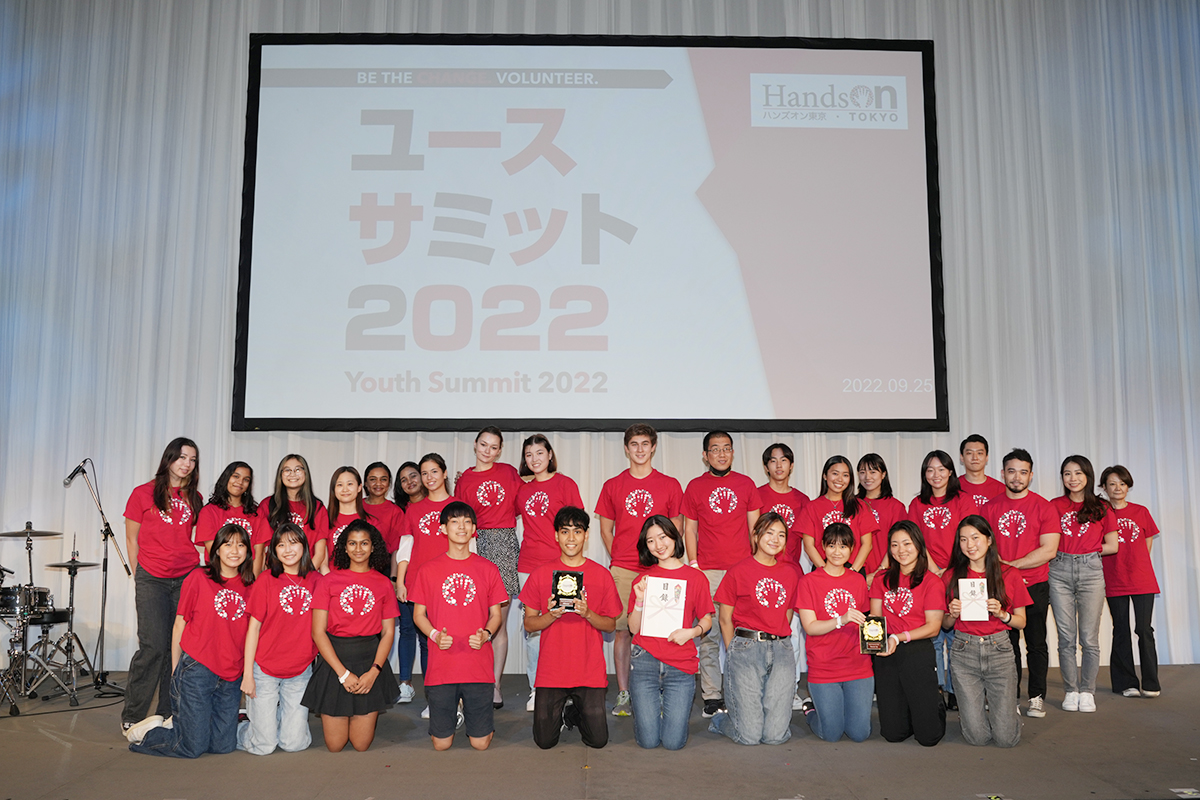 Youth Summit 2023
- Ideas Contest for Solving Social Issues -
Please join us!

*No Cost, Registration deadline is February 28, 2023.
*Please apply for each youth team (high school students, university students, 20s) 2-5 people.
*The Youth Summit 2023 will be held in September, 2023.

Contact
maki.yukevich@handsontokyo.org
Maki Yukevich / Youth Program Coordinator
---

Social Innovation for our future
Hands On Tokyo "Youth Summit"
Our "Youth Summit" is an event where high school students, university students, and young people in their 20s (youth) present their ideas for solving various issues under the theme of "social innovation," which focuses on social issues and working toward solutions.
This project started in February 2022, and teams of youth have been devising and implementing ideas that can solve problems in four areas: Children's Home, Special Needs, Poverty, and Environment.
At Youth Summit 2023, to be held in September, 2023, youth teams will compete for ideas to solve various social issues.
---
■ Youth Summit 2022 Digest Movie ■


■ Youth Summit 2022 / Presentations ■
Youth Group 1: GLOBAL EDUCATION GUIDES
A curriculum to promote global mindedness and non-textbook teaching methods where the children are encourage to express themselves freely.
Member: Premajanani Karthikeyan / Tharani Atapattu / Sophie Ogura / Kelly Ogura / Elliot Kim / Luna Nerve
Youth Group 2: Reflecting today's energy problems! The card game "Generate"
We came up with a game that allows participants to think about energy issues from three perspectives - environmental, economic, and safety - and compete to win or lose based on the number of points earned. The game will be open to junior high school students and older throughout the event.
Member: Rina Miyoshi / Mika Kato / Kana Goto / Anna Sakai / Seiju Shi
Youth Group 3: Muovi
Wearing ocean gems
Member: Tashina Kanamori / Kanak Arjunwadkar / Riko Kurokawa / Hana Knieling / Lena Ciganer / Elizabeth Lu / Alexandra Serban
Youth Group 4: Expand Horizons ~Connections that are unique to this place~
Project to "broaden horizons" through work experience and cross-cultural exchange for current and former students of children's homes.
Member: Junayeed Matin / Yudai Kachi / Reina Kachi
Youth Group 5: Hand in Hand
Refugees have rich language abilities and life experiences, but are not able to use them to the fullest extent due to social stigma against them. Our mission is to eradicate this stigma and provide potential job opportunities by helping refugees share their unique stories with Japanese corporations. Refugees and companies, Hand in Hand.
Member: Sakura Yurugi / Ryan Haddad / Rika Kobayashi / Sachika Yoyasu / Issin Kobayashi
Youth Group 6: Creating a Barrier Free Society
A platform for fun interactions, building awareness, and breaking down barriers
Member: Sang Won Daniel Takahashi / Kanako Oishi / Lucas Shiraki / Mieko Sakurasawa
Guest Youth Group from Hands On Hong Kong
Learn to Fly: Foundation of Education
"Learn to Fly, Learn to Thrive" is an English learning program led by five HandsOn Hong Kong YOUTH EMPOWERED student leaders. This program aims to help bridge the gap between students from different backgrounds.
Member: Aviva Wang / Chloe Yoo / Lorraine Ng / Natalie Leung / Yoyo Pang
---

■If you would like to support us financially, please visit the Hands On Tokyo website page below.