Youth Summit
---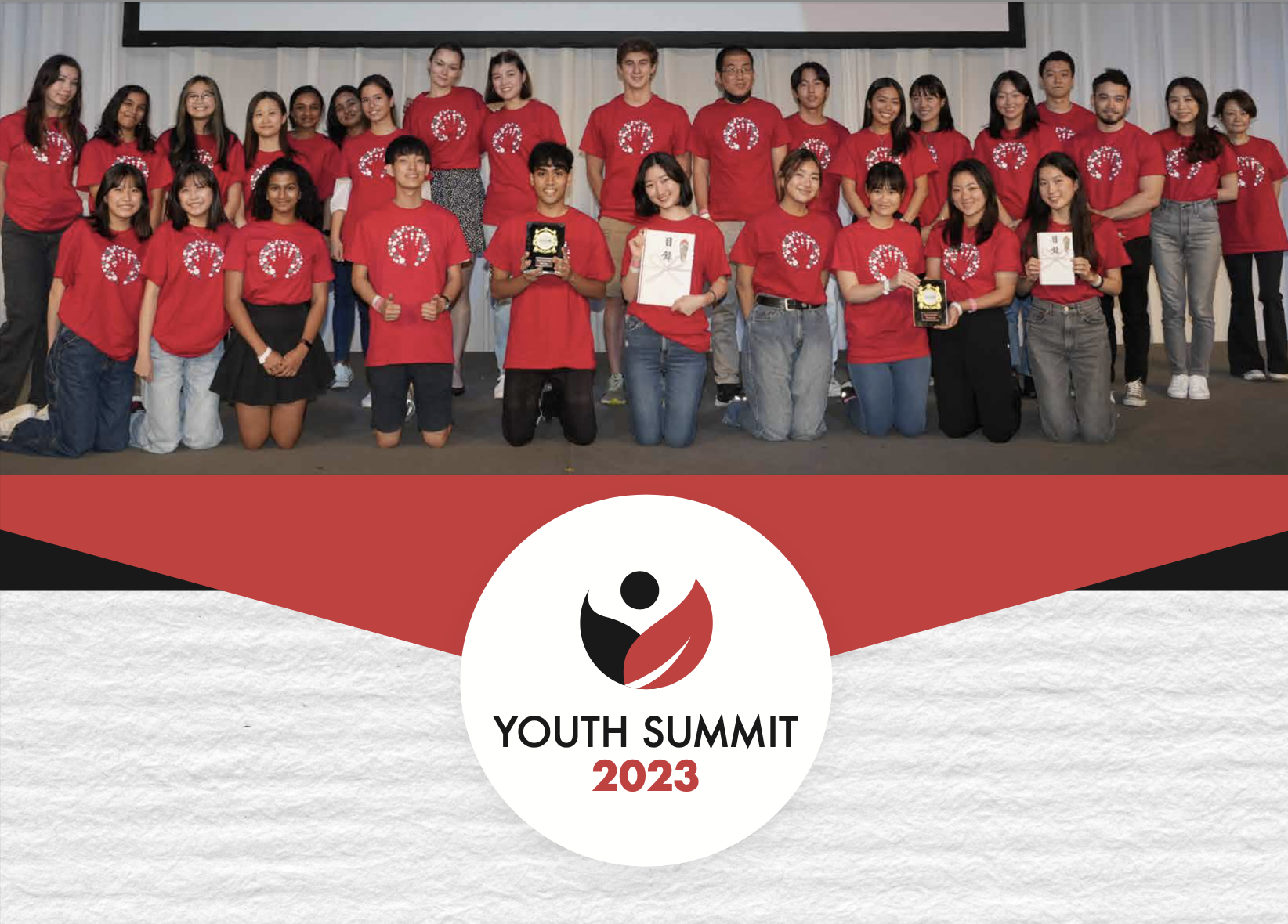 Youth Summit 2023
- Ideas Contest for Solving Social Issues -
★This event has finished★
Thank you for your support!
▼Youth Summit 2023 Digest Movie
◆ Youth Summit 2023 ◆
Ideas Contest for Solving Social Issues
Saturday, September 23rd, 13:00 - 15:00
Hybrid Event
Tokyo Midtown (Roppongi) Hall A and online
*Japanese/English interpretation, Japanese sign language Interpretation, and Japanese text interpretation will be available.

Social Innovation for our future
Hands On Tokyo "Youth Summit 2023"
Youth Summit is a contest in which high school, college, and graduate students and other young people compete to come up with feasible plans to face social problems/issues, come up with solutions, and how to actually act on them.
The "Youth Summit 2023" will be held on Saturday, September 23rd, from 1:00 p.m. at Tokyo Midtown, Roppongi, the six teams that have won the preliminary rounds out of more than 60 applicants will present their ideas. The group that wins the grand prize will then be supported by Hands On Tokyo to implement their idea.
Hands On Tokyo "Youth Summit 2023" will bring together great ideas for social innovation for our future!

■MCs and Inspiration Talk Guest Speaker
MC: Akiko Sasaki
TV TOKYO Announcer
Main anchor of 'WBS (World Business Satellite)'
Joined TV Tokyo in 1992 and was assigned to the Announcement Department. After working as a sportscaster, became the main anchor of the evening news program. Worked in the New York branch for a time and then was promoted to the main anchor of 'News Morning Satellite' (2014-2021) and of 'WBS - World Business Satellite' (2021- ).
MC: Seiichiro Yonekura
Hands On Tokyo Board Member
Professor of Hosei University
Professor Emeritus of Hitotsubashi University
President of Creative Response-Social Innovation School
Professor Seiichiro Yonekura received his B.A.s (in both Social Studies and Economics) and M.A. (Social Studies) from Hitotsubashi University in Tokyo and Ph.D from Harvard University in the United States of America. He is also President of Creative Response-Social Innovation School, an open school specialized in social and SDGs innovation and Chief Editor of Hitotsubashi Business Review, one of the most prestigious business magazines in Japan. His current research interests are on a historical development of innovation and entrepreneurship in a global business context and a social business and social entrepreneurship in the BOP (base of pyramid) market and SDGs challenges. He loves golf and rock'n roll.
Speaker: Yuto Doya
Founder, CLOUDY
Representative Director of the Specific Nonprofit Organization, CLOUDY
Born in Tokyo in 1985. Graduated from Keio University, major of Economics, in 2008. After graduating from Keio University with a degree in Economics, joined Goldman Sachs Japan Co. In 2010, I founded CLOUDY, a non-profit organization. Started supporting education and employment for 600 children living in slums in Kenya. I left GS in 2015. In the same year, I established DOYA Inc.Creating jobs in Africa. I launched apparel brand called "CLOUDY". In 2018, I was the first Japanese to participate in an event in New York hosted by the Bill & Melinda Gates Foundation. In 2019, I was a speaker at the 2019 TICAD7 (Tokyo International Conference on African Development) event hosted by Global Citizen. Aim is to establish a business model of "redesigning social issues through fashion."
Contact
maki.yukevich@handsontokyo.org
Maki Yukevich / Youth Program Coordinator

---
■ Youth Summit 2022 Digest Movie ■


---

■If you would like to support us financially, please visit the Hands On Tokyo website page below.