2019 Overview
---
If you are interested in offering volunteer opportunities to your employees, please feel free to contact Hands On Tokyo office at info@handsontokyo.org.

-----------

■Overview of Impact in 2019
In the year 2019, we were able to develop 59 different programs engaging total of 916 corporate volunteers to have impact in our community needs. Life-skill programs for under-privileged children, activities with senior citizens, Arakawa river cleaning, forest conversation at Sayama hills are some of the examples of the programs we developed to have positive impact in our communities while engaging corporate employees in meaningful volunteering opportunities. We express our deepest gratitude to all our corporate sponsors for your support and involvement.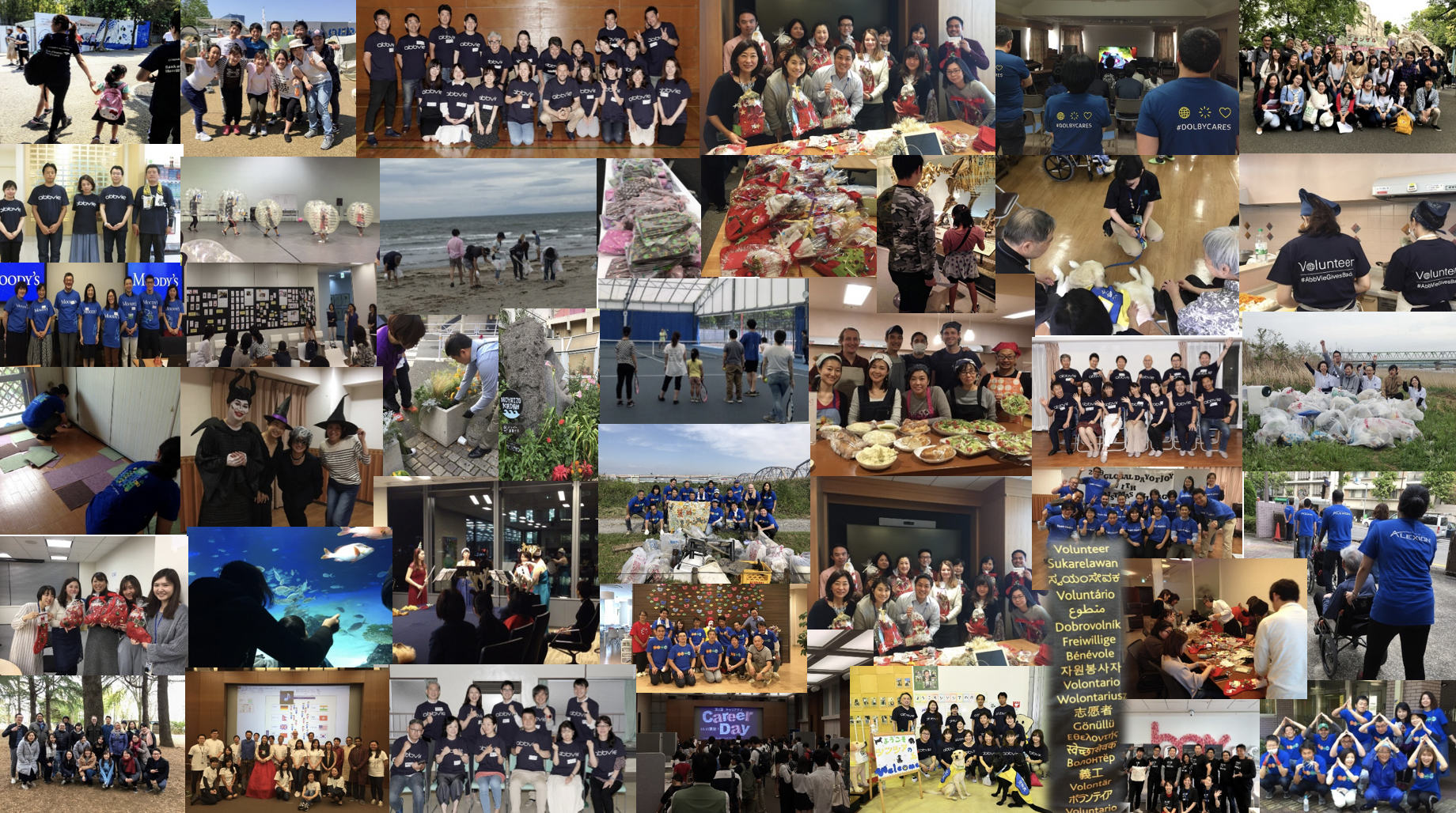 ◇Project Report Digest 2019

■AbbVie GK: Week Of Possibilities
For the fifth year in a row, we were fortunate to be able to support AbbVie Japan during their "Week Of Possibilities" (June 3rd-14th, 2019) to engage employees to participate in exciting volunteer opportunities.
AbbVie Japan Volunteers held a STEM activity "You are a scientist too! AbbVie's one day science class" with several children's homes in Tokyo. This is one of the most exciting activities for our vulnerable children which not only helps raise their interest in STEM (Science, Technology, Engineering and Mathematics) but also contributes to developing their life skills. AbbVie Japan Volunteers were also engaged in volunteering activities at Ronald McDonald's House Charities in ten different locations all over Japan, where they helped by cleaning and preparing meals for the residents. In addition, AbbVie Japan Volunteers in Nagoya volunteered at the training center of the Service Dog Association, which trains and provides service dogs to people with physical disabilities.
Hands On Tokyo expresses our deepest gratitude to AbbVie for their continued partnership, and is grateful to be a part of the Points of Light network, for launching this worldwide program #weekofpossibilities #Abbviegivesback. This program engages over 8,000 volunteers all over the world, including 120 volunteers in Japan.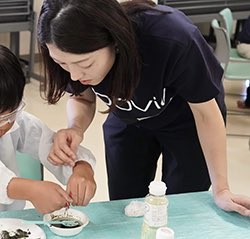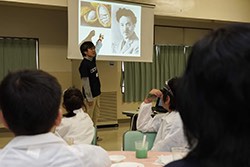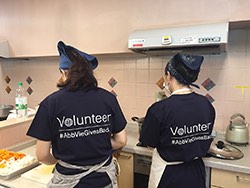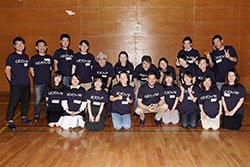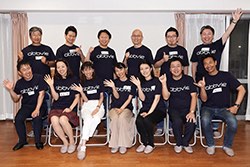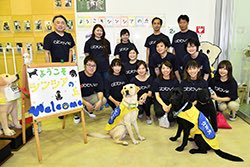 ■BNP Paribas: Pancake Project
BNP Paribas volunteers visited a children's home and had an interactive activity with the children. Both the volunteers and the children enjoyed making pancakes and beautifully decorating them. The children were very excited to decorate their pancakes as they wished and to interact with inspiring adults.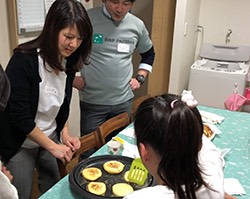 ■American Express: Arakawa River Cleaning Project
American Express corporate volunteers held an "Earth Day" activity at the Arakawa River. Volunteers picked up garbage and sorted it into various types. Although the weather was not that good, the volunteers did a great job collecting 49 bags of garbage in about one and half hours. The volunteers were surprised by the amount of garbage accumulated and realized the importance of environmental preservation.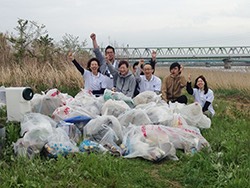 ■
Accenture Japan Ltd.: Scavenger Hunt Project, with Children from the Children's Home, at the Ueno Zoo
Accenture volunteers took children to the Ueno Zoo and had a Scavenger Hunt activity. The children were very involved in an activity to solve quizzes, and get hints in English for the scavenger hunt. Volunteers helped children in their groups to understand the questions and enjoy roaming around the zoo. This was a very rare firsthand intercultural experience for the children, where they met and interacted with volunteers of different backgrounds.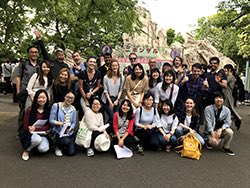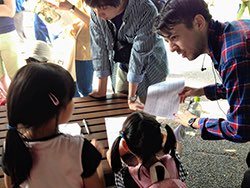 ■Bank of America Merrill Lynch : "Fun with English" Project, with Children from the Children's Home, at the Ueno Zoo
Bank of America Merrill Lynch volunteers helped children to have fun English activity at the Ueno zoo. Children were holding hands with volunteers and asking them to visit their favorite animals section in the zoo. This activity helped children to learn names and other specific characters about different animals in English while they were enjoying their moment of interaction with volunteers.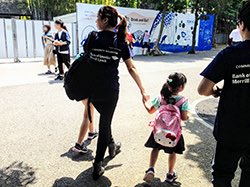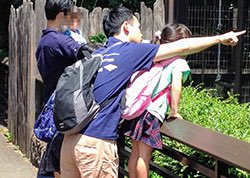 ■
DOLBY JAPAN: VR System Experience Project, with Children from the Children's Home
DOLBY JAPAN volunteers visited one of our Children's Home partner, and introduced them to the most advanced audiovisual technology of DOLBY. Children were also provided with portable kits to experience VR (Virtual Reality). Throughout the interaction, children were astonished by the audiovisual technology, and thrilled to have these VR experiences.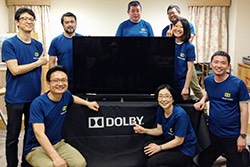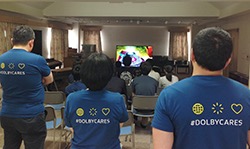 ■GLP: Sports Project, with Children from the Children's Home
GLP volunteers and children from the children's home played sports together. Although it was an extremely hot day, both the children and volunteers enjoyed the sports interaction together. Volunteers took extra care and made sure the children had enough drinks to keep them hydrated to avoid heatstroke. The children and volunteers enjoyed a BBQ after playing the sports.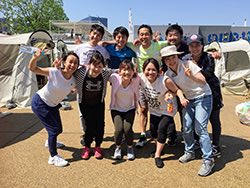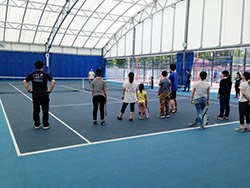 ■Morgan Stanley MUFG Securities: Floor Renovation at the Children's Home
Morgan Stanley MUFG securities volunteers helped in renovating a floor at one of our children's home partners. Initially, it was expected to take longer to finish the activity. The volunteers were very innovative and efficient, and were able to finish the activity ahead of the estimated time. They had outstanding team-work, filling every corner and gap with perfection. Thanks to the volunteers' team effort, the renovated floors have made the rooms look more spacious and beautiful.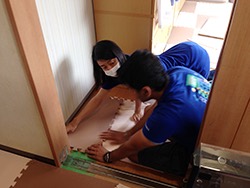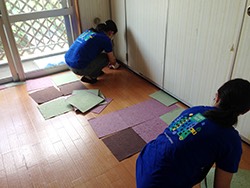 ★Corporate Volunteer Program Contact Email Address: info@handsontokyo.org